Volume 1, No. 1 - February, 2022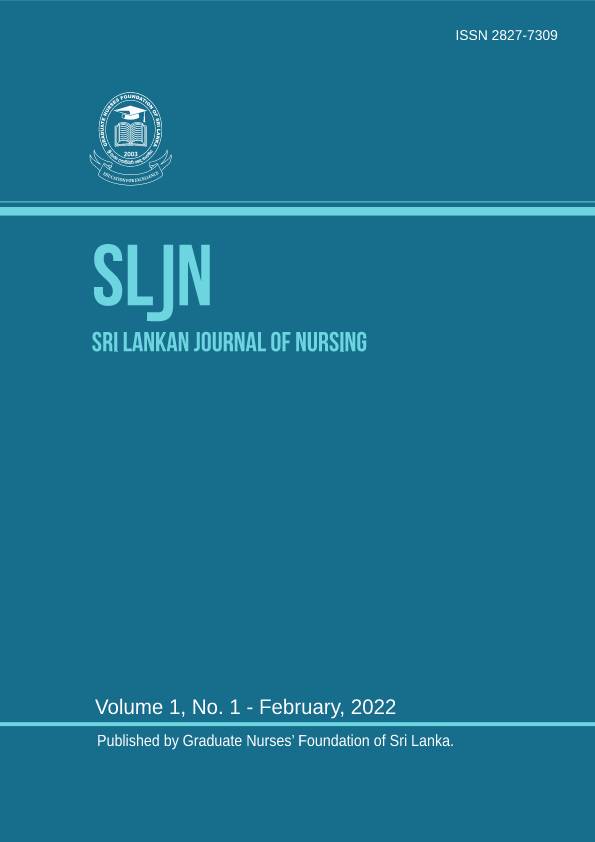 ISSN 2827-7309
General information
Sri Lankan Journal of Nursing (SLJN) is a peer-reviewed journal published by the Graduate Nurses' Foundation of Sri Lanka (GNFSL). This is the first nursing journal published in Sri Lanka, dedicated to share intervention and outcome research as well as qualitative and mixed-method research on nursing and related disciplines. This journal provides a forum for researchers to publish their original work and review articles related to all aspects of nursing and health including nursing education, clinical nursing, nursing management and leadership and public health nursing. Research across a range of biological, behavioral, psychosocial, spiritual, and cultural factors in health is within the editorial focus. The journal publishes original research articles, brief reports, review articles and letters to editor. Read more ..




Higher Education in Nursing: Paving the Way to Success
Seneviratne, S.


Cross-cultural Adaptation of the Begley and Glacken's Assertiveness Scale for Use Among Sinhala Speaking Nursing Students in Sri Lanka
Kumara, W.G. C. & Warnakualsuriya, S.S.P.


Public Health Midwives' Perceptions, Challenges and Attitudes Towards Health Education on Vulvovaginal Discharge
Ilankoon, I.M.P.S., Goonewardena, C.S.E., Fernandopulle, R.C., & Perera, P.P.R

Screen Time and Associated Health Problems Among Undergraduates of University of Sri Jayewardenepura, Sri Lanka
Patterson, N.M., & Warnakulasuriya, S.S.P

Psychosocial, Economic and Environmental Impact of COVID-19: Risks and Rewards.
Menike, W.A.R.P.